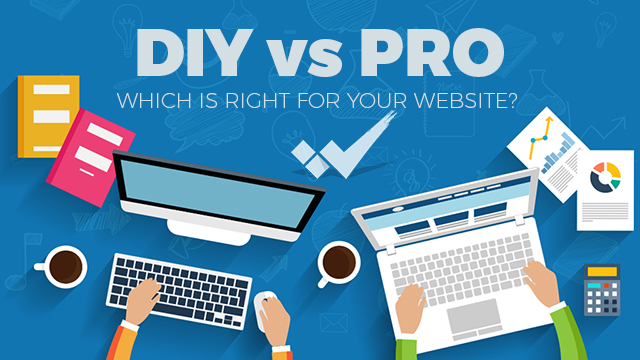 The design and development of a website is a big business decision. It can be a large cost and time commitment so it's understandable why free website builders like Wix and Squarespace have become popular. But are they the best decision?
Free drag and drop builders. Templates. Freelance designers. Professional web design companies. Which is the right approach? Should you DIY it or go pro?
While there's no blanket right or wrong way to build a website, we do believe there's a right and wrong way to approach the situation. Blindly choosing one option without examining all of them can lead to problems down the road. Do you choose to DIY to save money but be restricted by functionality. Or would a custom design from a professional better serve you?
We want to simplify the learning process for you, so we've pitted DIY websites vs professionally built websites against each other. Let's explore the good, the bad, and the bottom line.
The Good
DIY
PRO

If you're working with a small budget the DIY option is going to be very appealing. There are tools out there that will let you build a drag and drop website using their themes for no cost. Some of the themes can look quite good, but this also makes them very popular rather than being unique to your brand.

Free website builders have done a good job lately at becoming more user friendly and many services also bundle things like domain registration and email.

When you partner with a professional web developer you're going to get experience and industry knowledge. You'll be working with people who know best practices and can advise you so that you'll see increased traffic and conversions.

You'll also get ongoing support and a single point of contact. Something breaks on the site? Call your developer and let them handle it, while you get on with your business. Can't decide which hosting company to use? Don't know a domain registrar from a duck? No need, your developer can take care of those details.

Contrary to what many people believe, a website is never complete. Websites must have continual maintenance to keep them current and relevant to their industry. Technology is continually changing, and for websites to remain popular and successful, they must remain up-to-date with these trends. When using a professional web design service, you benefit from their webmaster services to keep your site updated and fresh.
The Bad
DIY
PRO

You're going to be limited. Limited by themes. Limited in functionality. Limited by how much time and effort you want to put into it. Expect some amount of frustration along the way as you run into these limitations. Most free platforms also purposefully make it impossible to transfer your content out to another provider, should you wish to make make a switch down the road.

Also, if you want extra features for your site, like email forms, mailing list integration, or ecommerce, you'll likely have to pay extra fees or upgrade your account. These little costs can add up over time, so you could find that you're not saving money at all.

There's no getting around it, a professionally built website will cost more up front. Also, depending on the amount of custom work and the complexity of the site, it may take longer to complete your web project. While elements like text and images should always be editable by you, a developer may decide to lock down features so that you'll need to call them to make navigation or style changes. Be sure to ask about this before you begin a project.
The Bottom Line
| DIY | PRO |
| --- | --- |
| Free site builders are easy and cost-effective to get up and running, and can even sometimes look kind of good. But they come with a large list of limitations or costly add-ons. And don't forget that time is money. Is your time best spent learning about SEO, writing content, and learning code/web tools? How much time will you spend over the life of the project? Are there other aspects of your business that would benefit more from that time? | Your website is often the first touchpoint that you'll have with potential new customers. You want to make the best impression you can and know that you're doing all you can to be found, solve their problems, and convert those site visitors into customers. While you can achieve some of that with a DIY site, from an overall design, build, launch, and end user experience, you can't beat a professionally built site with a team to back it up. |
Only you know the best choice for you and your business.
If you're ready to get started on a website project and want to learn more about the process, get in touch.